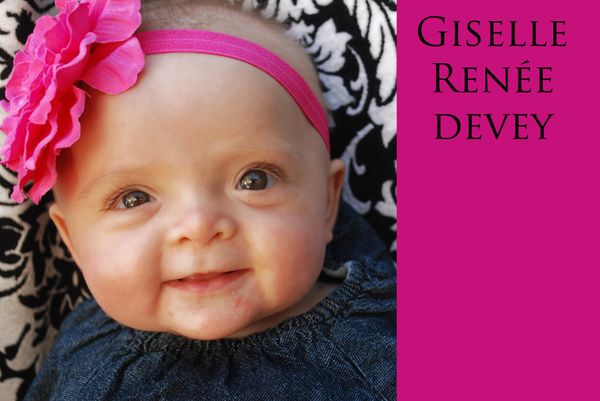 I took this photo of our gorgeous girl over 6 weeks ago, but Giselle is even cuter now!

Here is a quick update…

We have a new church that we love called the Wave www.wavechurchsd.com and I had the opportunity to lead worship there last week. It is great to have a church home again as we begin to connect with our community.

Our Thanksgiving weekend was fabulously quiet with just the four of us. Although poor Jameson was ill with a stomach flu (which he generously shared with me) we were still able to do a family photo shoot with Hillary from www.stillsbyhill.com. I will post photos of our session as soon as I see them!

On Sunday we are off to Carolina and Will's wedding in LA followed by a short trip to Seattle where Jim will see his family for the first time in two years. By the time we get home, we will have just enough time to put up the tree, bake cookies and order my last gifts from Amazon (my favorite store, as it does not require dragging my children through the holiday masses!) 

Oh, and I plan to finally send out Giselle's baby announcement/change-of-address just weeks before sending out Christmas cards. Better late than never, seems to be my new motto, especially since most every creative thing I do happens late in the evening (A.K.A. midnight, when Giselle is taking her sweet time going to sleep!)

Happy Thanksgiving and Merry Christmas, just in case!