~~Studio Time~~ 
~~Open Door ~~ is back in the studio working on our first Original Album.  
We are so excited to finally lay down at least 10 originals in the next 
few months!  Since we will be busy in the studio we will have less   
time to give concerts and lead worship, but we have made a 
commitment to playing at least once a month. 

~~New Singles ~~
"Closer" and "Solace" are the first new singles available.  
Check back in November for even more new material!

~~New Member~~
Also, after a long search for a new bass player, 
we are happy to welcome Kristopher Duarte to our group.  
Be sure to visit www.kristopherduarte.com 
to learn more about our newest member.

~~Band Bios~~
Click here to view the new photos and updated bios.
 





"Opening Doors of Faith Through Worship & Song"





What is ~~Open Door~~?
In short, ~~Open Door~~ is a Bay Area Christian Progressive Rock Band.   We specialize in leading worship and playing Lori's original music in a worshipful manner.  Currently, you are listening to ~~Open Door~~ on the site wide music player.  These two songs "Beautiful" & "Artisan" are Lori's original songs recorded by ~~Open Door~~ back in July of 2006.    

Some of our diverse musical influences include: Over the Rhine, Ella Fitzgerald, U2, Out of the Grey, Inhabited, Renee Flemming, Buddy Rich & Gene Krupa, and our sound has been compared to Jennifer Knapp, Nichole Nordeman, Darlene Zschech, Norah Jones & Sarah McLachlan.


What is the ~~Open Door~~ Mission?
"Reaching the lost through music that is relevant to a world that is broken. Challenging the saved with a passionate new song to deepen their faith through fervent original music and worship while encouraging those who don't know Christ to learn to fear and love the Lord."



Where Does ~~Open Door~~ Play?
Click here
For a calender of ~~Open Door~~ Concerts, 
Worship Events and Past Performances.



How May I Book ~~Open Door~~? 
Booking or to request a demo please contact David at padillafive@juno.com



Who is ~~Open Door~~?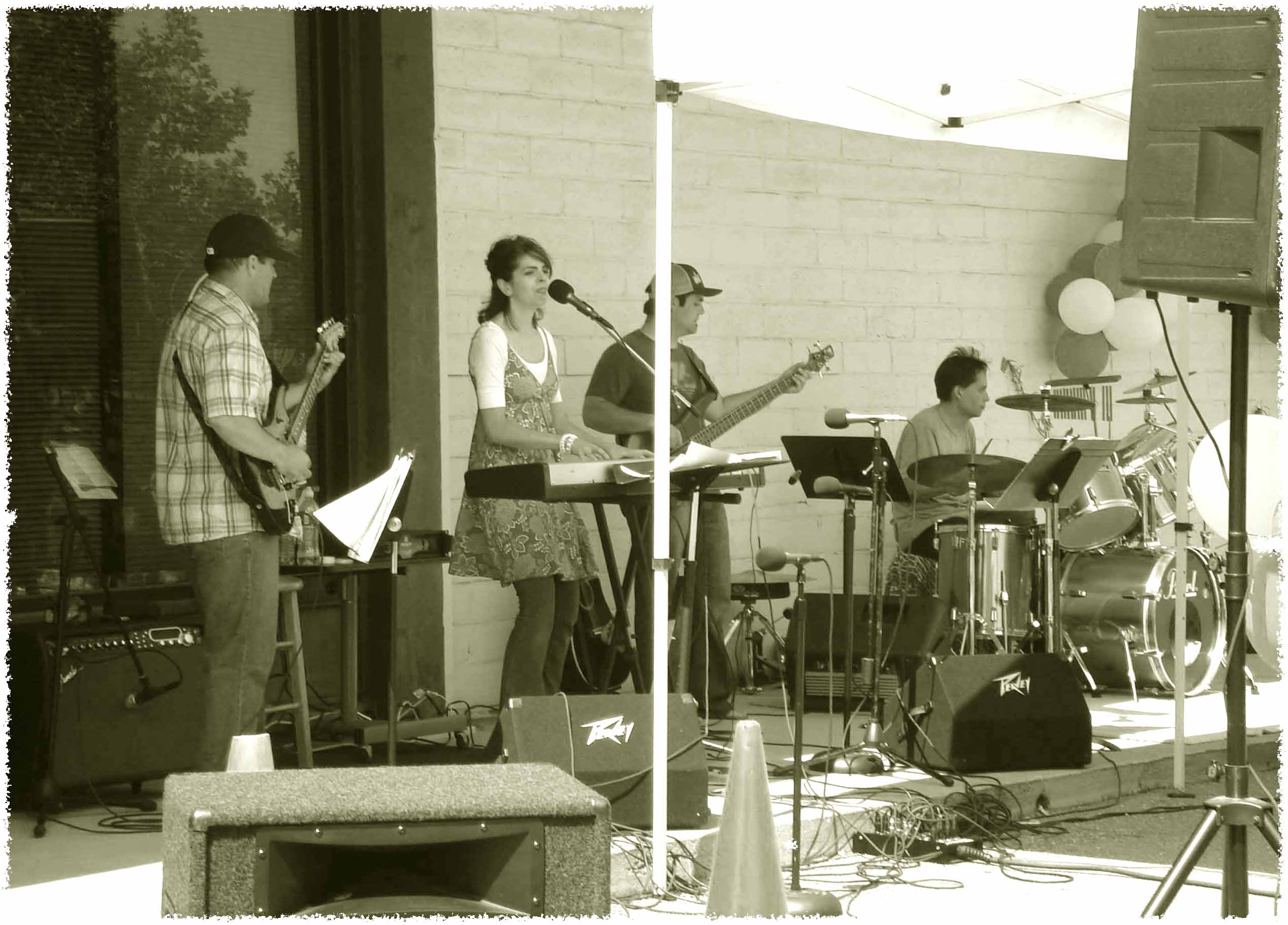 Photo taken by Christine Padilla.

From the Left...

James Richard Devey  ~ Guitar & Engineering ~  
Lori Renée Devey  ~ Keyboards & Vocals ~
Introducing newest member... 
Kristopher Duarte ~ Bass & Guitar ~
David Padilla  ~ Drums & Percusion ~

For ~~Open Door~~ Bios, Please click here.


Light: In concert!
Check out our first video!

Ironically, the lighting wasn't the
best, but the audio turned out great.

Try saving this to your desktop then
opening it was Windows Media Player.

Click below for the free WMP download!


Enjoy!

L
2.95 MB
© 2006 Lori Renée, Pleasant Hill, CA. All Rights Reserved.